Few things are as pure as the sound of a solo vocal and sparse acoustic accompaniment. That singularity of purpose led to the latest collaboration from veteran blues man Steve Howell and his partner, Jason Weinheimer; "A Hundred Years From Today." The wonderful ten song collection of rural country blues and traditional jazz offerings in the intimate setting of guitar, bass and vocals is set for an August of 2017 release. Texan Steve Howell provided the melodic and seasoned finger style guitar and soulful vocals while Jason Weinheimer lent his considerable and widely recognized skills on bass, engineering, mixing and mastering. The album opens with the jaunty trad jazz tune, 'Lulu's Back In Town,' that was a staple of Fats Waller's repertoire. The old-time country blues tune from 1927, 'Kansas City Blues,' shows off Howell's adept finger picking skills and the inspiration he drew from Mike Bloomfield. Howell then digs deep into the songbook of fellow Texan Lightnin' Hopkins for the share cropper's blues 'Going Back To Florida.' The loose yet tight two-step feel of 'Louis Collins,' cleverly disguises the dark beauty of the great American murder story from the 1920's, first recorded by Mississippi John Hurt.
Howell pays tribute to another one of his heroes, and Texas legend, jazz man Jack Teagarden, on the sweet lilting title track, 'A Hundred Years From Today.' Weinheimer keeps the bass walking as Howell trades rhythm, leads, and verses on the country blues boogie 'Got The Blues, Can't Be Satisfied,' another standard from the catalog of Mississippi John Hurt. The duo then pays tribute to the Crescent City, (New Orleans) the birth place of Jazz on a loving reading of 'Basin Street Blues.' Howell deftly merges the jazz standards 'Limehouse Blues' and 'After You've Gone' into one with an extended instrumental intro of more finger picking magic that sets up his easy swinging vocals. Bo Carter and The Mississippi Sheiks wrote and recorded some of the most varied Delta Blues material and are well known for bawdy songs such as 'Who's Been Here?' that would have been considered "blue material" back in the day. Howell delivers here with the light hearted, tongue-in-cheek humor that was intended. The much-loved standard, from the great American songbook, 'Rocking Chair,' closes out the set with Howell slowing the tempo and imbuing the motif of a dialog between an aged father and his son, with the deep melancholy from someone facing mortality.
"A Hundred Years From Today," from Howell and Weinheimer, offers an interesting and accessible set list, recorded with an eerie clarity missing in the quality of most audio production, that breathes new life into gems from the past and taps the depths of the human condition.
by Rick J Bowen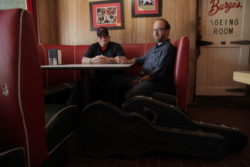 BIOGRAPHY
Steve Howell
When Steve Howell first heard Mississippi John Hurt's happy style of fingerpicking country blues in 1965 at the age of thirteen, he immediately knew that the tame, folky style of strumming the guitar was a thing out of the past for him. As his journey progressed, Mississippi John Hurt begat Blind Willie McTell and Leadbelly, who begat Robert Johnson, Son House, Rev. Gary Davis, Blind Willie Johnson, Blind Blake and a host of other black acoustic guitar players and vocalists. His interest in rural, folk-blues styles and the history of the music led him to learn more about how this music came to town and melded with the horn-oriented bands prevalent in the cities, creating a strong affinity for him with the traditional jazz and New Orleans music of the first half of the twentieth century. This led to a journey through music which, of course, included the pop, country, rock and blues music of the times, as well as the music of Miles Davis, Bill Evans, Lester Young, Louis Armstrong, Jack Teagarden, Art Tatum, Count Basie, Duke Ellington, Chet Atkins, Johnny Smith, Wes Montgomery, Bucky Pizzarelli, Joe Pass, George Van Eps, Lenny Breau, and many other great jazz artists. Although very interested in many other music styles (bebop, rock 'n' roll, rhythm and blues, and others), the heart of his playing and singing is very much rooted in the rural acoustic blues and traditional jazz genres born in the American South.
Born in Marshall, Texas, Steve lived in Kilgore, Texas, until the age of seventeen, when his family moved to Shreveport, Louisiana. Upon Steve's graduation from Captain Shreve High School in Shreveport, he lived in Dallas, Arlington, Austin, and spent some time in Pennsylvania during 1972-1973. Late 1973 brought the beginning of a hitch in the U.S. Navy which took him to Key West, Florida, and then to Havorfordwest, South Wales, for 3 1/2 years. During this time, he played folk clubs in South Wales, as well as in the South of England with his partner, fingerstyle and slide guitarist and mandolinist, Arnie Cottrell. They also played several folk music gatherings including the Pembroke Castle Folk Festival in the spring of 1976.
Upon his return to the United States '77 and back to Shreveport, Louisiana, Steve performed through the late 70's & 80's, with numerous gigs around East Texas, initially as a duo with guitarist David Dodson in 1977 and then with his partner, Shreveport restauranteur Jim Caskey. Since 2006 Steve has recorded the music he loves so much as well as continued to perform, oft times with his Mighty Men. Steve is the Recipient of the 2012 Academy of Texas Music Historical Significance Award.
Jason Weinheimer
A veteran songwriter and performer, Jason Weinheimer has spent the last decade focused on recording and producing albums for other artists at his studio, Fellowship Hall Sound www.fellowshiphallsound.com. He has recorded albums by John Moreland, Buddy Flett, and Jim Mize, among many others. In addition to his studio work, he plays bass in a few bands, most notably Steve Howell & the Mighty Men. His solo album "Skies Are Grey" was released in 2016 under the name The Libras.