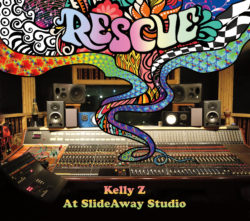 Kelly Z's solo album, "Rescue," is a collection of 60's Funk, Rock and R&B produced, mixed and recorded by the acclaimed Chuck Kavooras. The eight tracks of inspired cover songs were recorded in 2011, but because of a set of fortunate and unfortunate events, never completed. When Chuck and Kelly Zirbes started talking about doing another project together, Chuck remembered the abandoned tracks and played them for Kelly. Both decided they were just too good to sit in a box, where no one would hear the power of these songs and skillful effort of the musicians. Kelly was brought in to sing on the tracks and finish the project. The whole album was recorded on analog at Slide Away Studios, recreating that big vintage sound, and featuring a full horn section, special guests – Teresa James, Shari Puorto & Lisa Orloff Staley – and the core studio band of Rick Reed, Bryan Head, John Marx, and Mo Beeks.
Kelly's powerhouse rough and ready vocals draw instant comparisons to fellow blues belters, Lydia Pence, Dusty Springfield, Tina Turner and Irma Thomas. She rips out the scorching plea, 'What Do I Have To Do,' on the James Brown funk and fury opener, then dials it back for the smoldering soul of 'Baby It's You,' and digs deep into her emotional tool kit for the slow blues 'You Don't Realize.' Guitarist Perry Robertson plays Kelly's foil on the Ike and Tina standard from 1963 'It's Gonna Work Out Fine,' complete with "Ikette" backups from Teresa, Shari & Lisa. Kavooras himself adds greasy slide guitar to the swamp rocker 'Trying To Find My Mind.' Soul classic 'He Called Me Baby' is given a tender but robust treatment and you can sink your teeth into the sexy groove of Isaac Hayes' 'Do Your Thing.' The folk chestnut, 'You Are My Sunshine,' is given the full "Funky Broadway" treatment of a thundering jungle beat and blazing horn jabs to bolster Kelly's steamy vocals. This collection was so worth every effort needed to complete the "Rescue."
Rick J Bowen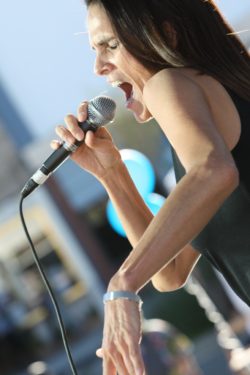 BIOGRAPHY
Kelly Zirbes and her band Kelly's Lot have been playing and recording in Los Angeles since the mid 90's, and have recorded eleven albums and toured nationally and internationally, amassing a strong following. Currently, the full band is Kelly Zirbes on vocals, Perry Robertson and Rob Zucca on guitars, Matt McFadden on bass, Sebastian Sheehan on drums, Bill Johnston on sax, Dave Welch on trumpet, Bobby Orgel on keys and Frank Hinojosa on harmonica.
"Test Drive" gave the band its first official release. Through the first ten years they recorded three live albums, "Live At The Troubadour," "Stop And Make A Difference" and "Trio," headlined local festivals, toured regionally and embarked on two national tours. Many radio stations, have played their albums including their seven-song EP "Come To This," which was recorded to showcase the band's journey towards more blues.
Kelly's Lot has been featured on many media outlets for the music and charity work the band has embraced. Some of the appearances include ABC Perspectives, Channel 4 in Milwaukee, Rock City News, LA Times, Pasadena Weekly, Independent Songwriter Magazine, Mixdown Magazine, The Debra Duncan Show, Good Morning Texas, The Gordon Keith show and Fox TV Houston to name a few.
In 2008 "The Light" was released, which showcased more of the rock and blues the band was getting known for. Their next release in 2009, "Pastrami and Jam," included a list of covers the band enjoys playing.
Kelly and her band have opened for Tommy Castro, Shemekia Copeland, Marcia Ball, John Mayall, Curtis Salgado, Coco Montoya, to name just a few, and have hosted blues events for charities and for fellow blues musicians. With the support of European fans, the band toured across Belgium, France, Germany, England, Scotland, and The Netherlands. In 2011, they released a live album from Brussels, "Live in Brussels," which was released both in Belgium and the U.S. "Plain Simple Me" came next and brings the listener back to the roots of this band, when Kelly was playing solo shows as a singer/songwriter.
"Don't Give My Blues Away," the next studio recording, was released with a horn section and keys with guest artists Teresa James, Robert Dill and Fred Mandel lending their musical genius to the project, which helped book new gigs for the group including the Valencia Jazz Festival and The Simi Valley Cajun and Blues Festival. "Bittersweet," their early 2017 release is a mix of many genres and features a new side of the duo's songwriting. Kelly and Perry have written songs for a 2018 blues release.