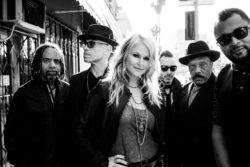 Like many first-class leaders Mindi Abair (pronounced with a long A plus Bear) knows how to surround herself with greatness. She has been electrifying audiences with her dynamic live performances and utter command of the saxophone since her debut album in 2000. No one since Junior Walker has brought saxophone and vocals in one package to the forefront of modern music, with a raucous tone and such dynamic stage presence. After eight successful solo albums, the two-time GRAMMY nominated saxophonist, singer, songwriter teamed up with powerhouse Detroit band The Boneshakers, led by guitarist Randy Jacobs and released the critically acclaimed debut Mindi Abair and The Boneshakers LIVE in Seattle in September of 2015.
After 2 ½ years of non-stop touring with the five-piece band that includes vocalist Sweet Pea Atkinson, drummer Third Richardson, keyboardist Rodney Lee and Derek Frank on bass, she called on the talents of renowned Blues Rock producer Kevin Shirley (Led Zeppelin, Joe Bonamassa, The Black Crowes, Aerosmith) to guide them into the studio for their first studio recording.  They chose the famed Hollywood recording studio EastWest Studios, and recorded 11 new tracks of hard-driving blues, rock and soul in just five days. "The EastWest Sessions" includes guest appearances from Joe Bonamassa and the 2017 GRAMMY Best Contemporary Blues Album Winner Fantastic Negrito.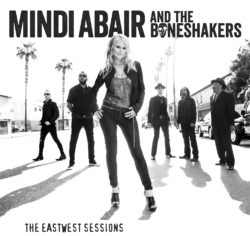 The album opens with the thumping soul rocker, 'Vinyl,' that is a celebration of love and the power of music, that name checks many of its inspirational characters. Abair and Jacobs share lead lines over the heavy tom tom-driven groove of the instrumental 'I'm Not That Kind Of A Girl,' that builds into the sheer abandon of a saxophone house party. Abair spells out her philosophy of self-reliance and determination on the rocker anthem 'Play To Win.' Choosing a bump and grind slow blues as her soap box, Abair takes aim at the boy's club for the blistering rebuke 'Pretty Good For A Girl,' driving her point home by sparring with guitar-slinger and friend Joe Bonamassa. For the soul ballad 'Let Me Hear It From You,' Sweet Pea Atkinson takes the vocal reins, demonstrating the power and skills he honed as the acclaimed lead singer for Was Not Was, Bonnie Raitt and Lyle Lovett. Some greasy wah-wah guitar mixes with Abair's saxophone on the opening hook of the inventive almost instrumental Blues Rock anthem 'Live My Life,' that features a vocal chorus alternating with scorching solos. The gospel soaked 'Freedom,' starts out unfettered then jumps into a ripping guitar riff over a huge drum groove. This ain't your daddy's jazz saxophone for sure. The slinky beat from Third Richardson provides the template for Abair's unapologetic confessional 'I Had To Learn The Hard Way.'
Deep Blues pioneer Fantastic Negrito joins the crew on the expansive meditation 'She Don't Cry No More,' a brooding work song dug up from the recesses of the human condition, filled with desperate weeping and wailing. Abair then plays a woman scorned on the dramatic 'Done Me Wrong,' pouring out her fury with tenacious vocals and blistering saxophone.  The playful cigar box guitar-driven country meets New Orleans two step, 'I Love To Play The Saxophone,' closes out the session. A sweet back porch sing-along with Abair touting her affection for the horn that has been the love of her life.
The title "The EastWest Sessions" refers to the LA studio used for recording the album in the city where they all met and started playing together, but upon further consideration what Mindi Abair And The Boneshakers have created is something deeper; a melding of styles and ideals. The tracks are a mixture of old school Eastern R&B swagger and soul meeting Modern West Coast Jazz and Commercial Rock sensibility, blended into a new groove for a new age.
Rick J Bowen
BIOGRAPHY
Two-time GRAMMY nominee Mindi Abair has made her mark as one of the most recognizable saxophonists in the US. You may know her as the saxophonist on American Idol, or the only saxophonist to tour with rock legends Aerosmith since 1973. You may have seen her on stage with Bruce Springsteen for a historic night at the Beacon Theater, or tuned in as she joined Paul Shaffer and the CBS Orchestra on the Late Show with David Letterman, caught her appearance at The Grand Ole Opry, or recognized her as Al Pacino's sax player in the movie Danny Collins or as the sax player in Adam Sandler's film "Sandy Wexler."
Her eight solo CDs have garnered ten #1 radio hits, seven top five spots and two #1 spots on the Billboard Contemporary Jazz album chart. Abair received a 2014 GRAMMY nomination in the Best Pop Instrumental Album category for "Summer Horns," a #1 recording with her friends Dave Koz, Gerald Albright and Richard Elliot, and more recently received a 2015 GRAMMY nomination for Best Contemporary Instrumental Album for her solo album "Wild Heart" featuring friends Gregg Allman, Joe Perry, Trombone Shorty, Booker T. Jones, Keb' Mo', and Max Weinberg.
After "Wild Heart," Abair wanted to translate its edgier rock/soul sound to the stage. She called longtime friend Randy Jacobs (Bonnie Raitt, Was Not Was, Willie Nelson) to join her live band. Randy brought his Detroit blues/rock edge to her music.  Randy's band, The Boneshakers, was playing The Newport Beach Jazz Festival on the same bill as Mindi's band, where she hopped on stage to "sit in" with The Boneshakers. "There was so much electricity on stage. We all felt it. Everyone played with complete abandon," Abair said. "It felt like home. And most of my band were also playing with Randy's band. It was really only about hiring longtime Boneshakers vocalist, Sweet Pea Atkinson (Bonnie Raitt, Was (Not Was), Lyle Lovett). So, we made it official and hit the road as Mindi Abair and The Boneshakers." "Mindi Abair and The Boneshakers LIVE in Seattle" was released September 2015, featuring all the abandon of their live performances.
The artists she's toured with and/or recorded with are a testament to her talent: Aerosmith, Gregg Allman, Keb' Mo', Joe Perry, Bobby Rush, Lalah Hathaway, Trombone Shorty, Duran Duran, Adam Sandler, Lee Ritenour, The Backstreet Boys, Booker T. Jones, Jimmy Webb, Mandy Moore, Max Weinberg, Bill Champlin, David Pack, Mocean Worker, The Ides of March and Teena Marie. Abair played on Bobby Rush's album with Blinddog Smokin' called "Decisions" and she produced, wrote, played and sang on "The Reverend Shawn Amos Loves You." Abair has also played on a few Keb' Mo' albums over the years and vice versa and she played on Sweet Pea Atkinson's album releasing on Blue Note Records in Sept., produced by Keb' Mo' and Don Was.